Charleston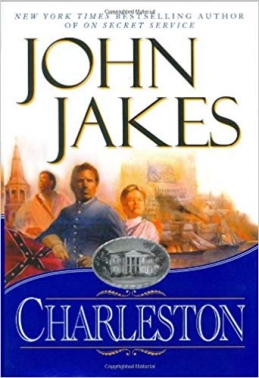 Published by Berkley
The John Jakes blockbuster that hit every major bestseller list including New York Times • Wall Street Journal • Los Angeles Times • Chicago Tribune

The epic family saga from the writer the Los Angeles Times called "the godfather of the historical novel" spans decades and generations in the city that changed American history for all time!

Charleston follows the lives, loves and shifting fortunes of the unforgettable Bell family from the American Revolution through the turbulent antebellum years to the savage defeat of the Confederacy and represents America's premier storyteller at his very best.

From the bitterly divided Carolina of the American Revolution to the flaming downfall of the Confederacy, CHARLESTON is peopled with a huge cast of heroic men and courageous women - aristocrats and commoners — slaves and freedmen. The colossal story follows the lives, loves, and fortunes of one unforgettable family —

EDWARD BELL - fierce patriot and guerilla fighter with Francis Marion, the "Swamp Fox"
EDGAR BELL - lawyer and Southerner torn by the conflicts of antebellum America
OUIDA BELL - the deranged cousin whose madness endangers those closest to her
ALEXANDRA BELL - idealist and abolitionist, driven to make peace with her beloved city as Union guns destroy it and Union troops march in to subjugate it . . .

. . . while a scandalous family secret, buried for decades, threatens to bring down the entire Bell family!
Ebook | 532 pages | B000PDYVSY | June 1, 2002