John Jakes
John Jakes is the acknowledged contemporary master of the family saga. He was the creator of the legendary eight-volume Kent Family Chronicles, the Main and Hazard families of The North and South Trilogy, and the Crowns of Chicago, German-Americans whose stories interweave the history of the twentieth century in Homeland and its sequel, American Dreams. His 2002 novel, Charleston, returned him to the turbulent years of the Revolution and the Civil War, and became his sixteenth consecutive New York Times bestseller.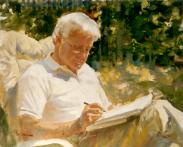 Praised as "the godfather of the historical novel," "the people's author," and "America's history teacher," Jakes mingled the lives of his fictional characters with those of historical personages, and involved them in the great events of U.S. and world.
His devotion to a unique blend of strong storytelling and historical accuracy won him a worldwide audience. More than 55 million copies of his Kent Family Chronicles are currently in print, along with nearly 10 million copies of The North and South Trilogy. Six of his major novels have been filmed as television mini-series. The first North and South production (ABC, David L. Wolper Productions, 12 hours) stands at 7th position among the 10 highest rated miniseries of all time.
Born in Chicago in 1932, John Jakes began writing professionally during his freshman year at Northwestern University, where he was studying acting. He decided to trade the stage for the typewriter when, at age 18, he sold his first story for $25. "That check changed the whole direction of my life," said Jakes.

He enrolled in the creative writing program at DePauw University, graduated in 1953, and in 1954 earned a master's degree in American literature from Ohio State University. After completing school, Jakes spent his days writing copy for a large pharmaceutical corporation, then several advertising agencies, including Dancer Fitzgerald Sample, one of the world's largest. At night he wrote and published short stories--eventually 200 of them, along with some 60 books in genres such as mystery, western, and science fiction.

In March of 1973, Jakes began work on The Bastard, first of the eight volumes of The Kent Family Chronicles. The series, depicting American history through the lives of a fictional family, became the publishing industry phenomenon of America's Bicentennial decade. All eight volumes were bestsellers. In 1975, with the publication of volumes II, III, and IV, Jakes became the first author ever to have three books on the New York Times bestseller list in a single year. New American Library has published new editions of the series; each volume, the author had written a new introduction.

North and South, the first book in Jakes's celebrated Civil War trilogy, was published in 1982, Love and War in 1984, and the concluding volume, Heaven and Hell, in 1987. All three were number one bestsellers, and were made into top-rated ABC Novels for Television miniseries.

California Gold was published in 1989, and 1993 saw publication of Homeland, the first of a new cycle of novels about a fictional family in the twentieth century. Homeland was named by the New York Times as one of its "notable books of 1993." The Crown family saga continues in American Dreams.

John Jakes held honorary doctorates from five universities, including DePauw and Ohio State. In 1995 he received the National Cowboy Hall of Fame's Western Heritage Literary Award for his short story Manitow and Ironhand, now collected in the anthology of Jakes stories, The Bold Frontier.

Also in 1995 he was recipient of a dual Celebrity and Citizen's Award from the White House Conference on Libraries and Information, for speaking and writing on behalf of America's public libraries. In 1996 he became the tenth living inductee of the South Carolina Academy of Authors, and in 1997 he received the Professional Achievement Award of the Ohio State University Alumni Association. In 1998 the South Carolina Humanities Association awarded him its highest honor, for Career Achievement and support of the humanities, and in 2002 he received the Cooper Medal, presented by the Thomas Cooper Library of the University of South Carolina. Previous recipients include Joseph Heller, John Updike, and Pat Conroy. He was named a Florida Literary Legend at the Florida Heritage Book Festival and Writers Conference in 2013.

From 1989 to 1996 Jakes was a Research Fellow in the Department of History at the University of South Carolina. A scholarly study of his novels, John Jakes: A Critical Companion was published by Greenwood Press in the fall of 1996. The author is Dr. Mary Ellen Jones of Wittenberg University.

Despite his decision to write rather than act, Jakes remained actively involved in theater after his high school days in Chicago. He acted in, directed, and wrote original plays and musicals.

A lifelong admirer of the life and work of Charles Dickens, Jakes created a stage adaptation of A Christmas Carol for his home playhouse on Hilton Head Island in the late 80's. Since then the script has been widely produced by university and regional theaters, including the prestigious Alabama Shakespeare Festival, the Victory Theater of Dayton, and the Burt Reynolds Institute for Theater Training in West Palm Beach. The script is available through Dramatic Publishing Company. In 2005, he adapted his longer script into a 50-minute touring version for eight actors, rather than the larger number required for the two-act play. While the original script played a month's engagement at the Arts Center of Coastal Carolina, the traveling show was simultaneously presented at 18 school and civic venues in a four-county region. Both scripts are available from Dramatic Publishing.

Among his favorite writers, he listed Charles Dickens first ("the greatest novelist in the English language"), along with Zola, Balzac, Scott Fitzgerald, and Georges Simenon. His roster of admired historical novelists included Dumas, Tolstoy, and among Americans, Kenneth Roberts, Hervey Allen, Thomas Costain and Samuel Shellabarger ("all four neglected and nearly forgotten now, which is a shame, because each is a wonderful story-teller"). He considered the late John D. MacDonald "one of the most consistently and unjustly underrated novelists of the last half of the twentieth century." Contemporary favorites included Larry McMurtry, John Irving, Robert B. Parker, and several personal friends: Sandra Brown, Patricia Cornwell, Ken Follett, and especially the late Evan Hunter, whom he knew for several decades, and to whom he dedicated On Secret Service.

John Jakes was a member of the Authors Guild, the Dramatists Guild, and American P.E.N., and served on the board of the Authors Guild Foundation. He was married for 71 years to the former Rachel Ann Payne of Danville, Illinois, whom he met at DePauw. They have four children and eleven grandchildren. He lived for many years in Sarasota, Florida, where he died in 2023 at age 90.

Additional information about John Jakes can be found in standard reference works including Who's Who in America, Contemporary Authors, and The Dictionary of Literary Biography.
Interested in the author's early career? Look up his autobiographical essay A Life in Writing, Part One, which appears in volume 214 of Contemporary Authors, published in 2003 by The Gale Group. Most good libraries subscribe to this reference series, or can get the volume for you.
See also: