Savannah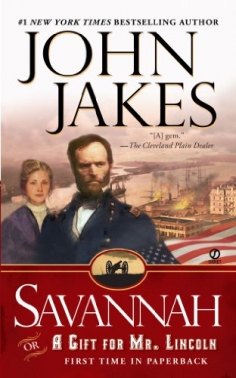 Or a Gift for Mr. Lincoln
Published by Berkley
Georgia 1864: Sherman's army marches inexorably from Atlanta to the sea. In its path: the charming old city of Savannah, where the Lester ladies-attractive widow Sara and her feisty twelve-year-old daughter Hattie-struggle to save the family rice plantation. When Sherman offers the conquered city to President Lincoln as "a Christmas gift," Hattie and the feared general find themselves on a collision course that will astonish both of them.

"A gem . . . John Jakes personalizes (Sherman's March) with his trademark talents: brisk plotting, exhaustive research, realistic characters and generous humor." —Cleveland Plain Dealer

"A heartwarming Christmas tale set during Sherman's bloody march to the sea. Only a storytelling veteran like Jakes could pull off such an audacious project." —Fort Myers News-Press

This rousing tale tells a story of battlefield danger, wartime romance, and indomitable courage. The rich cast of characters includes a corrupt judge who positively exudes Dickensian wickedness, a fast-talking piano-playing reporter from New York, a pair of thwarted young lovers, a raffish Indiana cavalryman, a valiant former slave who practices bird calls with surprising results, and a whole bagful of rascals, rebels, and real soldiers who marched with Sherman.

Together they bring to life a season of simmering hostilities, rising hopes, and empty stockings — perhaps the most strife-torn, unusual and touching Christmas in all of American history.
Ebook | 333 pages | B00CHQOTMA | June 1, 2004